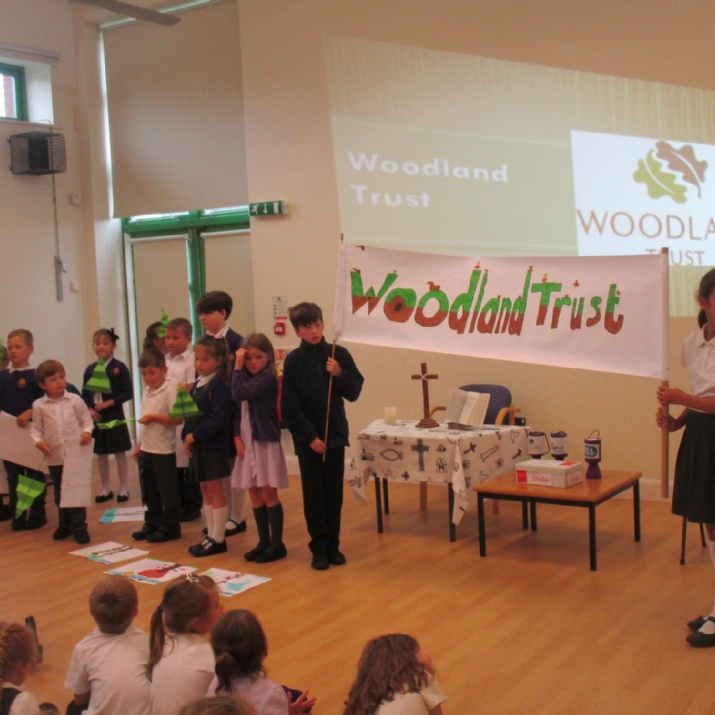 Charity of the year
Published 01/10/19
Charity of the year
This year (2019-20) all the children were involved in pitching for a chosen charity before voting. In their house teams, the children researched and prepared a presentation with everyone in Years 1-6 playing a part. The effort put into this was apparent on the day with some excellent facts, information, PowerPoints and pictures being displayed.
A hotly contested voting then took place with each child having a counter to put in the collecting box of the charity they wished to raise funds for. It was very close, but the winner was The Woodland Trust.
"We're standing up for woods and trees. We protect and campaign, plant trees, and restore ancient woodland for the benefit of wildlife and people.
To realise our vision we need to rekindle people's love for woods and trees and show them the benefits trees can bring to our lives and communities.
Since the 1930s, more than half the UK's ancient woodland we had has been destroyed. This rich, complex habitat dates back to medieval times and once swept in vast swathes across our countryside; today it covers just 2% of the UK. And we stand to lose even more as airports, roads and railways expand, houses are built and diseases attack.
The effects are devastating: 60% of our animal and plant species have declined in the past 50 years. Many are now endangered; some face extinction."
The children have identified this charity as one that affects their future, not just the here and now. Do support us in our fundraising through the year.
Read More